Parallel Mothers (2021)
Director: Pedro Almodóvar Run Time: 120 min. Rating: R Release Year: 2021
Starring: Aitana Sánchez-Gijón, Israel Elejalde, Milena Smit, Penélope Cruz, Rossy de Palma
Country: Spain
Language: Spanish
---
Returning to the Film Center as part of ICYMI: Winter Season 2022, a curated selection of films you might have missed.
---
"That magical connection between Almodóvar and Penelope Cruz continues to grow stronger and burn brighter with their eighth film together over the past quarter century."

—Christy Lemire for RogerEbert.com
About the film:
Official Selection of the 2021 Venice Film Festival. Two women, Janis and Ana, forge a bond in a hospital room where they are going to give birth. Both are single and became pregnant by accident. Janis, middle-aged, doesn't regret it and she is exultant. The other, Ana, an adolescent, is scared, repentant and traumatized. Over the next two years, their connection changes their lives.
Pedro Almodóvar's Parallel Mothers received nominations for Best Original Score and Best Actress for Penelope Cruz at the 94th Academy Awards.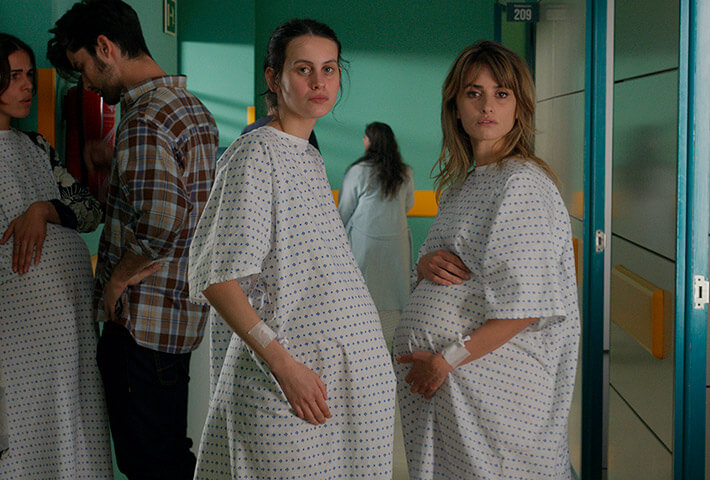 About the filmmaker:
A regular at Cannes, Pedro Almodóvar is an internationally celebrated Spanish filmmaker known for his complex and passionate stories. Unable to attend film school, he purchased a Super 8 camera and began making short films with friends, later becoming a star of "La Movida", the pop cultural movement of late '70s Madrid. After founding the production company El Deseo with his brother, he crafted Women on the Verge of a Nervous Breakdown, which was nominated at the 61st Academy Awards and screened at the Center alongside his recent Venice selection The Human Voice. He won his first Academy Award with All About My Mother followed by Talk to Her. His other acclaimed projects include Bad Education, The Skin I Live In, and Pain and Glory. Almodóvar has received numerous awards, including the Golden Lion for Lifetime Achievement at the 2019 Venice Film Festival.
In Parallel Mothers, Almodóvar worked with some of his regular collaborators, including Academy Award winner Penelope Cruz and Rossy de Palma.
Learn more about ICYMI
See our upcoming films
MAJOR SUPPORT


Ohio Arts Council
Greater Columbus Arts Council
The Columbus Foundation
Campus Partners
National Endowment for the Arts
WITH HELP FROM


G&J Pepsi
WOSU Public Media