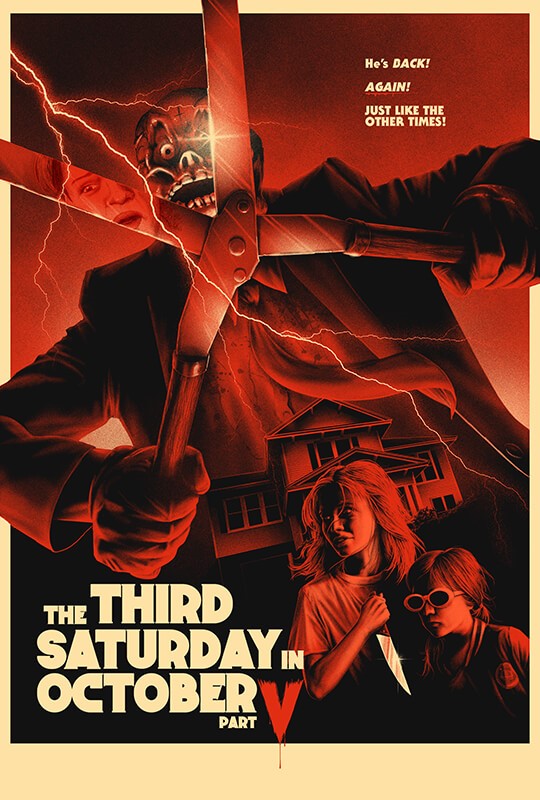 Watch trailer for Double Feature: The Third Saturday In October Part V and The Third Saturday In October (2023)
Watch trailer
Double Feature: The Third Saturday In October Part V and The Third Saturday In October (2023)
Director: Jay Burleson Run Time: 189 min. Release Year: 2022
Starring: Allison Shrum, Darius Willis, K.J. Baker, Kansas Bowling, Poppy Cunningham, Taylor Smith
Country: United States
Language: English
About the films:
A one-of-a-kind cinematic experience from writer-director Jay Burleson, who recreates the video store experience of watching a popular horror franchise out of order because of what was left on the shelf. First up is The Third Saturday in October Part V (2023), the final and "newest" sequel from the 1990s, followed by The Third Saturday in October (2023), the original and "recently unearthed" film from the late 1970s. Both the "lost" horror films premiered at the Chattanooga Film Festival and screened Fantastic Fest, Popcorn Frights, and other genre film festivals.
"Twice the scares, twice the laughs, and a world-building start of a franchise that's as outlandishly clever in its deception as every gore set piece it throws on screen"
In Part V, unstoppable killer Jakkariah "Jack" Harding is back in town after seven years, as he stalks and kills at random before chancing upon a football watch party. The game is, of course, between longstanding rivals the Alabama-Mobile Seahawks and Tennessee A&M Commonwealth. Chaos ensues, in increasingly ridiculous fashion, with inventive murders and multiple love triangles. Hearts are broken and appendages are torn.
In Part 1, it's October 1979. Ricky Dean is a man on a mission. Years ago, he lost a child at the hands of a psychopathic killer named Jakkariah Harding. When Harding escapes Death Row, Ricky Dean throws himself into the line of fire to stop him from killing again as Harding preys upon a group of friends gathered to watch a college football game.
An authentic throwback to the golden age of the slasher genre, both a loving tribute to the films that created the horror franchises we know and love as well as an effectively creepy chiller for the modern age.
About the filmmaker:
Jay Burleson is an American filmmaker best known for writing and directing the feature films The Third Saturday in October Part V (2023), The Third Saturday in October (2023), and The Nobodies (2017), which premiered at the 2017 Sidewalk Film Festival where it won the Special Jury Prize for Best Alabama Film. He is also President of the independent production company Sleep Creature LLC.
See our upcoming films
MAJOR SUPPORT
Ohio Arts Council
Greater Columbus Arts Council
The Columbus Foundation
Campus Partners
National Endowment for the Arts
WITH HELP FROM
CD 92.9 FM
G&J Pepsi
WOSU Public Media