Exhibition on Screen: Sunflowers (2021)
Director: David Bickerstaff Run Time: 85 min.
---
Presented January 6–8, 2022, as part of Exhibition on Screen, an in-depth look at the world's most extraordinary art exhibits and the motivation behind them made possible through partnership with Gateway Film Center, the McConnell Arts Center, and Columbus Museum of Art.
---
About the film: A unique opportunity to see, as never before, this series of spectacular paintings.
Vincent van Gogh's Sunflowers are among his most famous works, and are some of the most iconic paintings in the world. In an extraordinary exhibition, the Van Gogh Museum took a new and revealing look at the five publicly-owned versions of sunflowers in a vase. 
This film goes beyond the surface to explore the many questions and mysteries that surround these works. All is revealed in this fascinating film, which travelled beyond Amsterdam to Tokyo, Philadelphia, London and Munich to film, in incredible high-definition detail, all five of the works.
All five paintings are also now considered to be in such a delicate state that there will never be a show with all five alongside one another ever again. Only in this film will you have a chance to see that on the screen – in our virtual exhibition.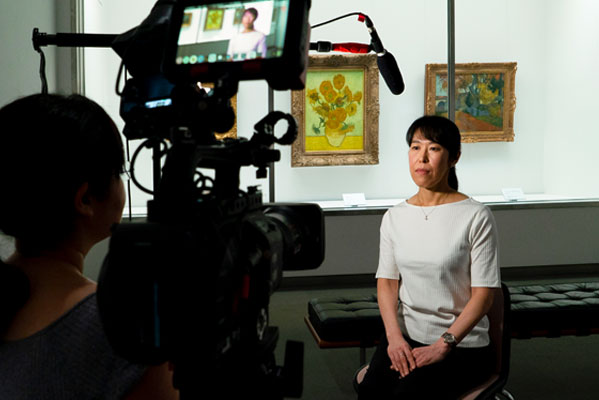 About the filmmaker: David Bickerstaff is an artist and award-winning filmmaker who founded Atomictv in 1997 as an umbrella organization for developing digital art projects and collaborations. David has also been collaborating with producer Phil Grabsky at the innovative Exhibition on Screen, directing, filming and co-writing nine feature-length art documentaries. This popular series is distributed to 63 countries and shown in over 1500 cinemas worldwide. Each film looks at an iconic artist and a major exhibition of their work in world renowned art galleries. He has won various awards for his projects and is a member of the British Academy of Film and Television Arts.
Exhibition on Screen
Ask About Group Sales
PROGRAM SUPPORT


Columbus Museum of Art
McConnell Arts Center
MAJOR FILM CENTER SUPPORT


Ohio Arts Council
Greater Columbus Arts Council
The Columbus Foundation
Campus Partners
WITH HELP FROM


G&J Pepsi
WOSU Public Media