Strange Way of Life (2023) with The Human Voice (2020)
Director: Pedro Almodóvar Run Time: 62 min. Rating: R Release Year: 2023
Starring: Agustín Almodóvar, Diego Pajuelo, Ethan Hawke, Jason Fernández, José Condessa, Manu Ríos, Miguel Almodóvar, Pablo Almodóvar, Pedro Pascal, Tilda Swinton
Country: Spain, France
Language: English
---
Double Feature! Discover two celebrated films from the vanguard of modern Spanish cinema, Academy Award-winning filmmaker Pedro Almodóvar.
---
About the films:
Strange Way of Life (2023) had its World Premiere at the 2023 Cannes Film Festival.
A man rides a horse across the desert that separates him from Bitter Creek. He comes to visit Sheriff Jake. Twenty-five years earlier, both the sheriff and Silva, the rancher who rides out to meet him, worked together as hired gunmen. Silva visits him with the excuse of reuniting with his friend from his youth, and they do indeed celebrate their meeting, but the next morning Sheriff Jake tells him that the reason for his trip is not to go down the memory lane of their old friendship…
"perfectly pitched by Pedro Pascal and Ethan Hawke… It mines deeper reserves of feeling than films four times its length"

—Ian Freer, Time Out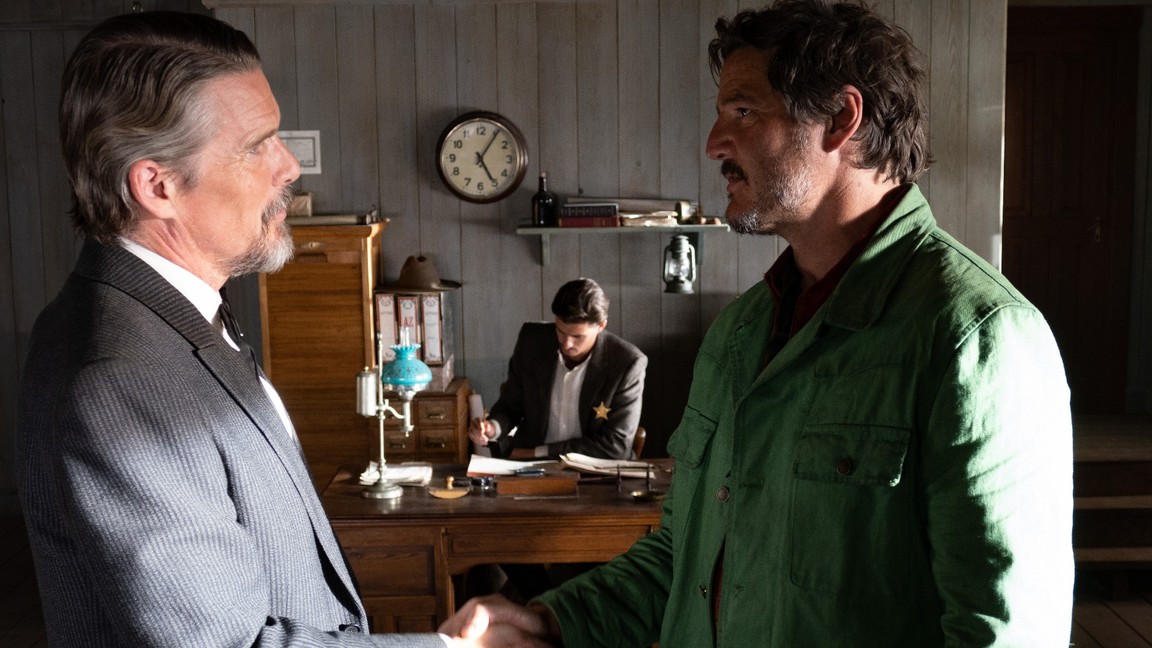 Almodóvar's English-language debut, The Human Voice (2020) celebrated its World Premiere at the 2020 Venice Film Festival. In the film, two living beings face abandonment: a woman who watches time passing next to the suitcases of her ex-lover (who is supposed to come pick them up, but never arrives) and a restless dog who doesn't understand that his master has abandoned him.
"bold colors, a focus on passion, and a tone that veers between hilarious and heartbreaking… for fans, it's a reminder of what makes Almodóvar such a great director, and for neophytes, it's an unforgettable introduction"

—Karen Han, Polygon
About the filmmaker:
Pedro Almodóvar is an internationally celebrated Spanish filmmaker known for his complex and passionate stories. Unable to attend film school, he purchased a Super 8 camera and began making short films with friends, later becoming a star of "La Movida", the pop cultural movement of late '70s Madrid. After founding the production company El Deseo with his brother, he crafted Women on the Verge of a Nervous Breakdown (1988), which was nominated at the 61st Academy Awards. He won his first Academy Award with All About My Mother (1999) followed by Talk to Her (2002). His other acclaimed projects include Bad Education (2004), The Skin I Live In (2011), Pain and Glory (2019), and The Human Voice (2020). Almodóvar is a regular at major film festivals and has received numerous accolades, including the Golden Lion for Lifetime Achievement at the 2019 Venice Film Festival.
See our upcoming films
MAJOR SUPPORT


Ohio Arts Council
Greater Columbus Arts Council
The Columbus Foundation
Campus Partners
National Endowment for the Arts
WITH HELP FROM
CD 92.9 FM
G&J Pepsi
WOSU Public Media