Another Round
Director: Thomas Vinterberg Run Time: 117 min. Rating: NR Language: Danish, Swedish
Starring: Lars Ranthe, Mads Mikkelsen, Magnus Millang, Thomas Bo Larsen
Country: Denmark, Sweden, Netherlands
Language: Danish and Swedish with English subtitles
Presented in our Virtual Screening Room
"One of Denmark's most celebrated auteurs, and this sensitive dark comedy is one of his best"

– Anne Thompson, IndieWire
About the film:
Official Selection of Cannes 2020 and Toronto International Film Festival. Earned European Film Awards for Best Film, Director, Screenwriter, and Actor, and Best International Feature Film at the 93rd Academy Awards.
Four friends, all high school teachers, test a theory that they will improve their lives by maintaining a constant level of alcohol in their blood.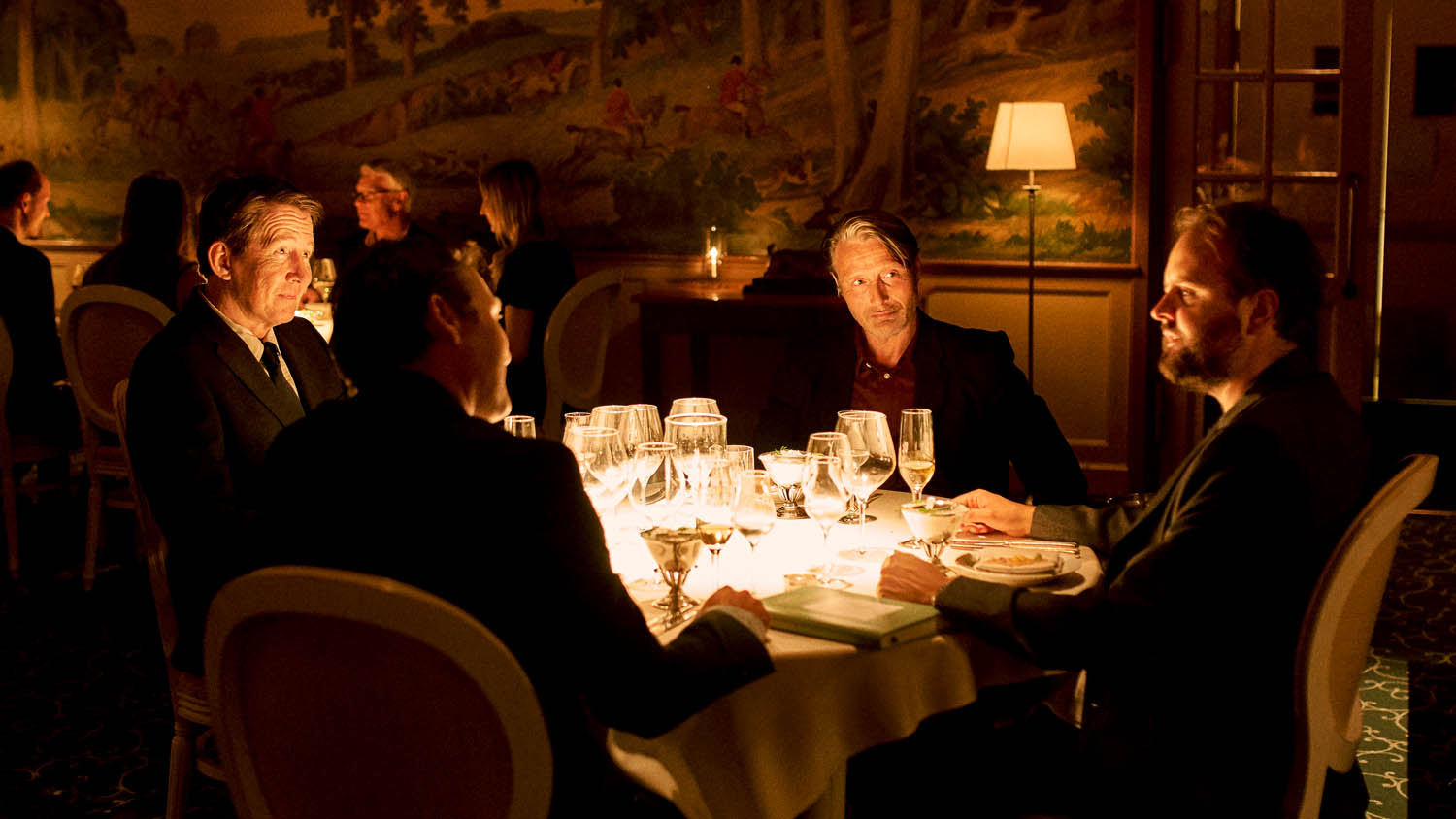 About the filmmaker:
Celebrated filmmaker Thomas Vinterberg graduated from the Danish Film School in 1993 with his award-winning short film Last Round. His critically acclaimed feature films include The Biggest Heroes (1996), Submarino (2010), The Hunt (2012), Far from the Madding Crowd (2015), The Commune (2016), and The Command (2018). He has also written and directed plays for the national stage in Austria and directed music videos for Blur and Metallica.
In 1995, he and Lars von Trier founded the low-budget filmmaking movement "Dogme 95" with the intent of taking back creative control of films from the studios by eschewing special effects and gimmicks in favor of storytelling. In 2015, Vinterberg's inaugural Dogme 95 film, Cannes Jury Prize-winning The Celebration, opened a retrospective celebrating the legacy of the movement at the Museum of Arts and Design.
For Another Round, Vinterberg reunited with co-screenwriter Tobias Lindholm from their Academy Award-nominated The Hunt, the film that earned Mads Mikkelsen the prestigious award for Best Actor at the 2012 Cannes Film Festival. 
While filming Another Round, Vinterberg lost his daughter in a car accident. He speaks of embracing life and dedicating the film to his daughter in an interview with Eric Kohn for IndieWire.
 See all virtual titles
MAJOR SUPPORT


Ohio Arts Council
Greater Columbus Arts Council
The Columbus Foundation
Campus Partners
WITH HELP FROM


G&J Pepsi
WOSU Public Media